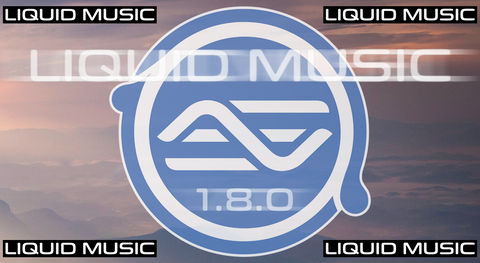 Liquid Music updated to version 1.8.0
Toronto, Canada – Dec 18th, 2022 – WaveDNA is proud to announce Liquid Music v1.8.0, offering a host of improvements making it the most widely compatible and stable version of Liquid Music ever. Liquid Music 1.8.0 addresses many of the recently-changing technologies for operating systems and chipsets, with support for Apple Silicon, macOS 11+ & Windows 11. Click here to read the press release.
We are excited to introduce new compatibility with Bitwig and Reason on Windows (complementing our prior compatibility on macOS), as well as to introduce a ProTools AAX for Liquid Rhythm (complementing the prior Liquid Music AAX) on macOS & Windows, with new native mode compatibility on Apple Silicon. Furthermore, we are proud to announce full compatibility has been restored with the Liquid Music Max For Live Device (AMXD) in Ableton Live 11+ on macOS & Windows, also with new Apple Silicon native mode compatibility.
Installation and setup have been improved and streamlined with Java now completely embedded in Liquid Music 1.8.0, thanks to WaveDNA's new licensing agreement with Azul. All plugin formats now use an embedded Java 1.8 JDK, isolated from any system Java, and using the latest, most secure, and most stable revision as maintained by Azul. This configuration, along with further internal updates have significantly increased platform stability.
Liquid Music 1.8.0 also offers new user library bank features building off the clip management capabilities opened up by the Project Clips panel that debuted in Liquid Music 1.7.0. These new features enable users to create custom Banks of user content and settings that persist across Liquid Music Projects making favorite or frequently-used Clip set-ups conveniently accessible at all times.
New: Project Clip Library
The Project Clips panel now has a folder icon that opens up the new Project Clip Library folder sets, enabling users to create custom Banks containing content Clips or preferred settings that are frequently employed across different Liquid Music projects. Create and name new Banks, collect favorite Clips or prepared canvases, sort and organize by genre—or instrument type—or whatever scheme you find helpful for managing your content and preferred workflow, share ideas across projects without having to save and load as external files; these are a few of the possibilities offered by the new Banks functionality. 
These folder Banks will persist across your Liquid Music sessions (whether you use the VST / AU / AAX or Max for Live AMXD versions of Liquid Music) so they will always be readily at hand to help get you started making your music more quickly than ever. In this first iteration of the Project Clip Library Banks feature, there are no predefined categories included so you are free to organize by your own preferences.
Other Improvements in Liquid Music 1.8.0
Java: JDK 1.8 Bundling + Embedding

Azul licensing agreement and full Java bundling and embedding used by all plugin types (VST / AU / AAX / Max For Live) of both Liquid Music and Liquid Rhythm, as well as the Liquid Rhythm standalone

Complete isolation from any system Java; no external Java install required for any running modes or platforms (an 

improvement from 1.7.0

), and if there is any system Java (of any version), it will not interfere with Liquid Music (a substantial improvement from 1.7.0)

Java language specification updated to Java 1.8 everywhere in Liquid Music and Liquid Rhythm (previously some components used Java 1.6 & 1.7)
macOS 11+ Compatibility

Updated Apple SDKs and libraries to use newer versions as per Apple notarization requirements and macOS 11+ compatibility

Apple Silicon native compatible for all plugin types and for the Liquid Rhythm standalone

Engine process runs natively on Apple Silicon and Intel (plugins engine run according to DAW host)
Client / UI process runs natively on Intel x64 only and in Rosetta on Apple Silicon machines

Not to worry: this does not result in a performance hit since the computational bulk as well as all audio handling and DAW sync are handled engine-side

Installation in "fat bundle" form with both Apple Silicon and Intel versions of binaries installed together, meaning 1.8.0 can be run in Apple Silicon native or in Rosetta, or natively on Intel machines

Backwards compatible up to macOS 10.12 Sierra
Windows 11 Compatibility

Windows version of Liquid Music now fully 64-bit

Liquid Music now installs to "C:\Program Files\" instead of "C:\Program Files (x86)\"

Windows users should complete 

a full uninstall

 before installing Liquid Music 1.8.0

Backwards compatible up to Windows 7 (64-bit)
Plugin Compatibility

All Liquid Music + Liquid Rhythm plugins can run both Intel x64 and Apple Silicon native

On Apple Silicon machines the running mode will depend on the running mode of the DAW

New AAX for Liquid Rhythm, complementing the prior Liquid Music AAX

Apple Silicon native compatible (for upcoming Apple Silicon version of Pro Tools)
Liquid Music AAX + Liquid Rhythm AAX compatible with Pro Tools 11+ on macOS and Windows

Liquid Music Max For Live / Ableton 11+ full compatibility restored, after updating AMXD internals

Full compatibility also maintained with AMXD in Live 10 and Live 9

New compatibility with Bitwig on Windows (complementing prior macOS compatibility)

Tested in Bitwig 4 and Bitwig 3

New compatibility with Reason on Windows (complementing prior macOS compatibility)
Known Issues & Limitations
2022/12/22: Liquid Rhythm Standalone runs only in Intel / Rosetta mode, and not natively in Apple Silicon

The Liquid Loops Audio Engine process can be run natively in Apple Silicon when run on its own
However, the UI process runs only in Intel (this also occurs in the plugin versions as described above)
In Liquid Rhythm standalone, the engine process is spawned from the UI process, which is the opposite of what happens with the plugins, which launch the UI (always in Intel) from the engine / plugin (which runs Intel or Apple Silicon native based on how the DAW is running)
We discovered in testing further today that the Liquid Loops Audio Engine process is spawned in Intel from the Intel UI process regardless of how the Liquid Rhythm application is configured

Known Issues and Limitations from Liquid Music 1.7.0 and prior: https://www.wavedna.com/wavedna-releases-liquid-music-v1-7-0/